Financing Options
Residental Properties: Buy now and pay over time
A Wells Fargo Home Projects credit card is an easy and convenient way to pay for goods and services. Plus, as a Wells Fargo Home Projects cardholder you can enjoy other great benefits throughout the year, such as:

Special promotional offers where available
Revolving line of credit that you can use for future purchases
Quick credit decision
Convenient monthly payments to fit your budget
Easy-to-use online account management and bill payment options
The following special terms promotions may be available to you on qualifying purchases if your application is approved. Please ask your merchant which promotions they are offering.

Types of special terms promotions that might be available:

No Interest if Paid in Full within promotional period with regular monthly payments This is a deferred interest promotion. This means that if you do not pay off the purchase balance in full within the special terms promotional period, interest will be charged to your account from the purchase date at the regular APR for Purchases rate of 28.99%. Paying only the minimum monthly payment will not pay off the purchase balance before the end of the special terms promotional period. To avoid interest charges, you must either pay more than the minimum monthly payment or make a lump sum payment(s) before the end of the special terms promotional period.

Important reminder: For No Interest if Paid in Full promotions, you will have to pay interest that accrues at a 28.99% APR from the date of purchase if you do not pay the purchase balance in full within the special terms promotional period.
Special Rate with equal or fixed monthly payments
A special (reduced) rate will apply until your qualifying purchase is paid in full. Equal or fixed monthly payments are required.
The Wells Fargo Home Projects credit card is issued by Wells Fargo Bank, N.A. with approved credit. Apply for the Wells Fargo Home Projects credit card by selecting "Apply online" below.
1. Apply online today.
2. Get a response from us right away.
3. If qualified, get your new credit card in the mail.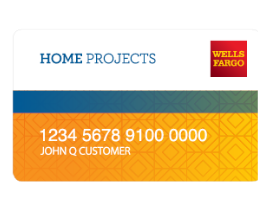 Commercial Properties: Buy now and pay within 45 days

What Can ProTrade Credit Do for Your Business?
Generous Credit Lines
We typically offer credit lines that meet the growing needs of your company. Plus, if you need more credit, we'll work directly with you to try and increase your line and provide the purchasing power you need. Just call 866-890-9745.
Easy Application
You'll appreciate the fast and easy application—and there's no cost to sign up.
Online Reporting
You'll save countless hours with 24-hour secure access to online job-level reporting. Track invoices by job code, job name or even by job phase, such as framing or finishing. You'll also receive a monthly account summary with job-level detail.
No Interest
You pay no finance charges when you pay on time.
No Fees
Enjoy generous credit lines and easy-to-read, job-level reporting online anytime, with no ProTrade Credit membership, monthly or annual fees when your account is paid on time.
Outstanding Customer Service
Expect the highest level of service and support, including a dedicated customer service team and 24/7 online account access.
--
You can download and print the application here.
Please fill out the application, print, sign, and return the application by fax to (615) 301-4580 or mail to:
ProTrade Credit
PO Box 17825
Portland, ME 04112
Processing takes approximately 24-48 hours once the application is received.. You will be notified of a decision once the processing is complete.